Restaurants & Bars
The variety of culinary options at Seadust Canun Family Resort are sure to please any palate. From award-winning French cuisine to authentic Mexican and Caribbean dishes, the restaurants and bars at Seadust Cancun are one of the greatest pleasures of the hotel. The decoration is consistent with the theme of each of the restaurants whether it is colorful, casual, elegant, or illuminated by the bright sea views.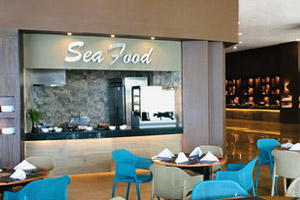 Food Gallery
Buffet
Food Gallery offers a first class experience in each of its eleven interactive stations. It has an open kitchen concept where you will participate while the ingredients are mixed right in front of you.
Our modern hot and cold plates are leveled with the food display in an original way. 
We offer dishes and very unique decorations according to the theme of each season: Japanese, Mexican, Italian, seafood, vegetarian, grilled specialties, fruits, salads, drinks, as well as a variety of desserts, and a candy bar. We also have a stone oven for baking pizzas created with your favorite ingredients.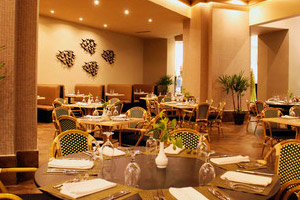 Deli Manhattan
New York Style
This restaurant offers a menu for dinner with a very New York style.
Here you will find the New York favorites, from bagels, hamburgers and club sandwiches to original specialties such as smoked salmon, quail liver pâté, and mushrooms stuffed with crabmeat and hollandaise sauce.
The fresh and casual touch of its decoration and booths will transport you to the heart of the Big Apple.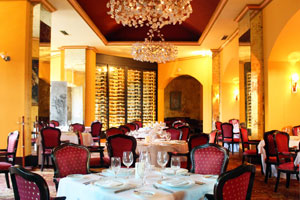 La Maison de Michelle
French Gourmet
Its delicious gourmet menu features French specialties such as magret of duck in raspberry sauce, beef stew "bourguignon", and escargots with wild mushrooms and bacon. We recommend that you try the traditional brioche with foie gras mousse. An authentic delight!
Our ambiance and mid-light lighting will transport you to a romantic corner of Paris.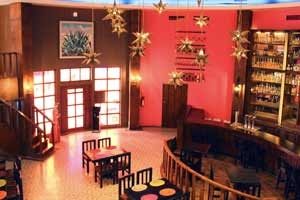 El Maguey
Mexican Á la Carte
It is no coincidence that UNESCO has recognized Mexican food as Intangible Cultural Heritage of Humanity. The dishes like zucchini flower soup and wild mushrooms, or our traditional Mexican sopes with cochinita pibil give life to our customs.
Indulge your palate with these delicacies made with the highest quality fresh ingredients, and enjoy the evening with a roasted pineapple mezcalita in hand and sing in unison the best ranchera songs.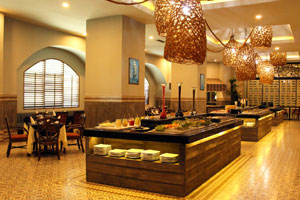 Lighthouse
Buffet
Savor a truly gastronomic experience that will take you beyond the traditional spaghetti Bolognese. Choose from a creative menu of appetizers, salads, soups, chops and seafood, all crowned with a wide assortment of desserts.
The restaurant offers fresh lobster preparations. You can choose the one of your preference to be made to your liking.
We have a bar of salads, snacks, and pasta à la carte, ideal for the youngest ones.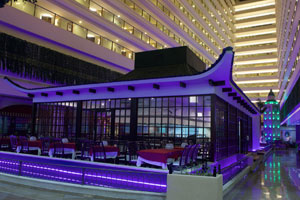 Samarai
Japanese Á la Carte
Savor the delicate selection of traditional à la carte favorites such as sushi prepared at the moment, and dishes made on our Teppanyaki tables. Choose between meat, shrimp, and a variety of vegetables. Without a doubt, an original experience and a very entertaining show. 
Do not miss this delicious experience that will take you right to the heart of Japan.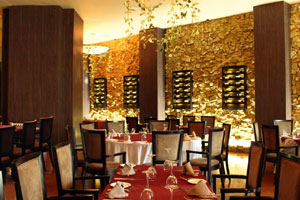 Big Ben Steakhouse
Specialty in fine meat cuts Á la carte
With the finest meat cuts such as rib eye, New York, arrachera, and the specialty of the house: pork ribs in different presentations.
Due to the delicious taste of the soft cuts on the grill, this restaurant has a high demand.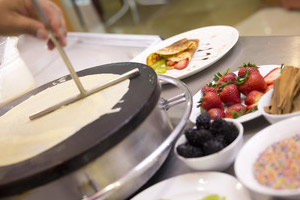 La CrÊperie
Desserts
La Créperie is a world of fun and flavors for all ages. Enjoy the charming atmosphere with a mid-afternoon coffee and complement it with some extravagant and delicate temptation by its hand-decorated cakes and sweet crêpes. You will also find ice cream and freshly baked bread loaves.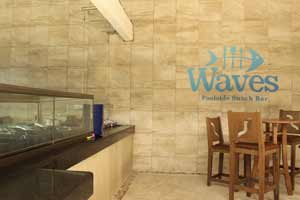 Waves
Snacks by the pool
Waves is the perfect place to quench your thirst with a frozen margarita or a cold beer. You can also comfortably calm your hunger with the snack of your choice without having to leave the fun.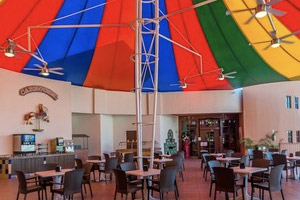 Carrousel
Kids Buffet
Set by the laughter of the little ones splashing in the waters of the pool, Carrousel is the idyllic space to rest and relax outdoors with your favorite snack.
Be certain that after playing in our children's areas, the appetite of your kids will be awakened and they will be delighted with our buffet. Here you will find hot dogs, nachos, chicken nuggets, French fries, among others.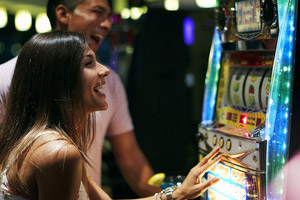 Fun Bar
Adults only
While savoring a premium cocktail and refreshing yourself with the fresh sea breeze.
Located near the exclusive Club Caribe pool for adults, this bar has table games such as dominoes, poker, blackjack, and pool. Ideal for spending the afternoon socializing with guests who love the small pleasures of life. At night, lively music and exotic cocktails create a cozy and entertaining atmosphere.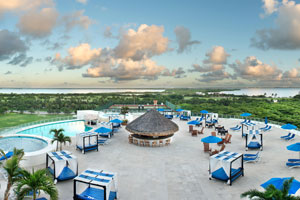 Club caribe
Adults Only
This relaxed lagoon-front bar will allow you to enjoy your favorite drinks while cooling off in the pool.
The bar is fully stocked with premium liqueurs and the most exotic cocktails. Thanks to its excellent location with a panoramic view of the Nichupté lagoon, from Club Caribe you will have front row seats to admire the most beautiful sunsets.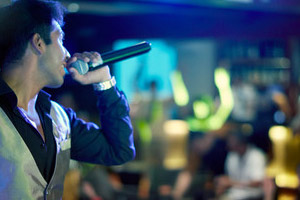 Bar Karaoke
Family bar
Seadust Cancun Resort has an international variety of songs to show off your voice in front of the other guests. This club is the perfect place to have fun in the afternoon and at night.
Encourage your friends and family to take the microphone and sing along to your favorite songs. The people's applause will motivate you to continue enjoying the night.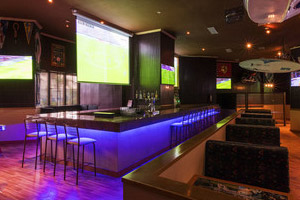 Touchdown Sports Bar
Sports Bar
Whether you're traveling with your partner, your family, co-workers, or friends, at the Touchdown Sports Bar you'll discover a variety of ways to savor the fun.
It has more than ten televisions with different programming, Xbox, foosball, and pool. Perfect to spend a rainy day and keep entertained.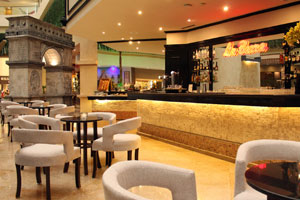 La Barra
Gourmet selection of cheese and wines
From our wide gourmet selection of cheese displayed in a self-service bar. In addition to wine, various types of drinks are served like original cocktails, beers, soft drinks, and more.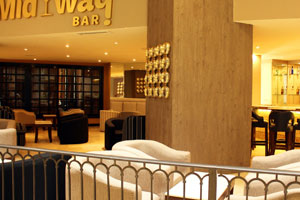 Midway Bar
In Midway, you can enjoy refreshing cocktails while you wait for a table in one of our specialty restaurants, or to share a drink before going to relax.
Here you will find a wide selection of national and international drinks to pamper all of our guests.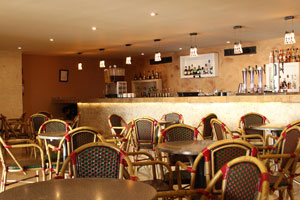 Kilimanjaro
Lobby Bar
Drinks for the whole family are served with style at the Kilimanjaro Lobby Bar at Seafront Canun. When it comes to having a good time, our first-class cocktails will never disappoint.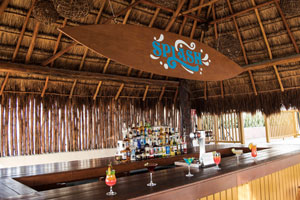 Splash
This bar has a large terrace facing the pristine waters of the Caribbean Sea. Splash is the perfect place to quench your thirst without leaving the fun.
Here you will find a wide variety of drinks, delicious cocktails, snacks, beers, soft drinks, and much more.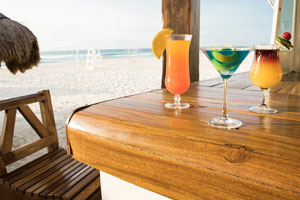 Squalo
Beach Bar
The perfect setting to savor a premium cocktail while enjoying the fresh sea breeze in our new beach bar. Squalo serves different types of drinks, cold beers, soft drinks, among others.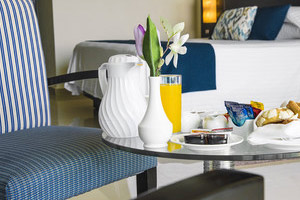 Room Service
24 Hours
Or, for those who like to have breakfast in the privacy of their room with the wonderful views of the Caribbean beauty.
The hotel's all-inclusive plan includes 24-hour room service with a wide selection of freshly prepared entrees and specialties for breakfast, lunch, and dinner.